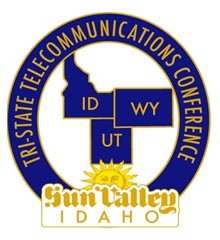 Thank you to everyone who participated in the 2013 Tri-State Telecommunications Conference serving independent telcos in Idaho, Utah, and Wyoming.
For conference related inquires, please contact:Diane Bradshaw
Phone: 801-789-2800
Email: diane@directcom.com
Utah Rural Telecom Association 
---
ABOUT THE TRI-STATE TELECOMMUNICATIONS CONFERENCE
The Tri-State Telecommunications Conference is an annual conference sponsored by the Idaho Telecom Alliance, the Utah Rural Telecom Association and the Wyoming Telecommunications Association.  The conference rotates each year between the three states, allowing participants the opportunity to visit some of the most beautiful resorts in the country.
The Tri-State began in order to allow rural telephone company owners and managers in the mountain states an opportunity to spend time together sharing stories, talking about trends in the industry, as well as the challenges faced by all of the companies.  In addition to renewing telco friendships each year, the owners and managers also look forward to spending time with industry leaders providing products and services to their companies.
The 2014 Tri-State will be held August 11th – August 14th at the Zermatt Resort in Midway, Utah.  The Zermatt Resort is a uniquely German and Swiss themed resort located in the Wasatch mountain range.  Summer resort activities include golf, river rafting, fly fishing, and a host of other recreational activities and spa amenities.  The Zermatt Resort is also full of  boutiques and fine dining establishments.
Please contact the Conference Coordinator, Diane Bradshaw of the Utah Rural Telecom Association, for additional information.